Pope Francis in Hungary: Orban provides Pope a loaded gift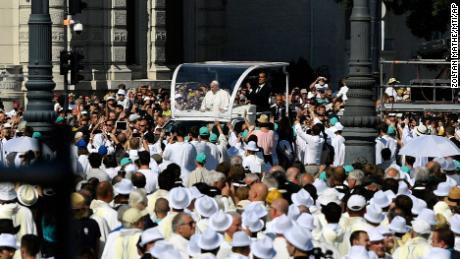 Orban, a self-styled defender of Christian values, has rolled again civil liberties, ranging from migrant and
LGBTQ+
legal rights to media freedom, and worked to erode judicial and educational independence in Hungary.
The Pope's remarks appeared to criticize some of these procedures, stressing the need for tolerance.
"This is what I wish for you: that the cross be your bridge among the earlier and the foreseeable future. Religious sentiment has been the lifeblood of this country, so hooked up to its roots. However the cross, planted in the ground, not only invites us to be properly-rooted, it also raises and extends its arms in the direction of anyone," Francis stated for the duration of his deal with although presiding about the closing Mass of the Worldwide Eucharistic Congress.
"My wish is that you be like that: grounded and open, rooted and considerate," he added.
Orban's personal reward to the Pope, having said that, appeared to underline his nationalist and anti-immigrant stance: a copy of a 13th century letter from Hungarian King Bela IV to Pope Innocent IV. The letter requested the then-Pope for help in resisting the Mongol invasion of Hungary and Europe.
Balazs Orban, Deputy Minister for the Primary Minister's Business office, described the present on his Facebook site, indicating, "there are a lot of similarities between the situation at that time and right now…we should understand from history."
The Hungarian chief met the Pope privately in Budapest on Sunday, together with Vatican officers and Hungarian President Janos Ader. They discussed the protection of the natural environment, marketing of families and the function of the Catholic Church in Hungary, according to the Vatican.
When he landed in the Hungarian cash before that working day, Francis mentioned he was happy papal trips experienced "restarted" and that he would deliver "the phrase and greetings to quite a few people."
This is the Pope's 34th international journey and the 1st considering the fact that he experienced a
surgery
for colon diverticulitis in July.
"Esploratore. Appassionato di bacon. Social mediaholic. Introverso. Gamer. Studente esasperatamente umile."